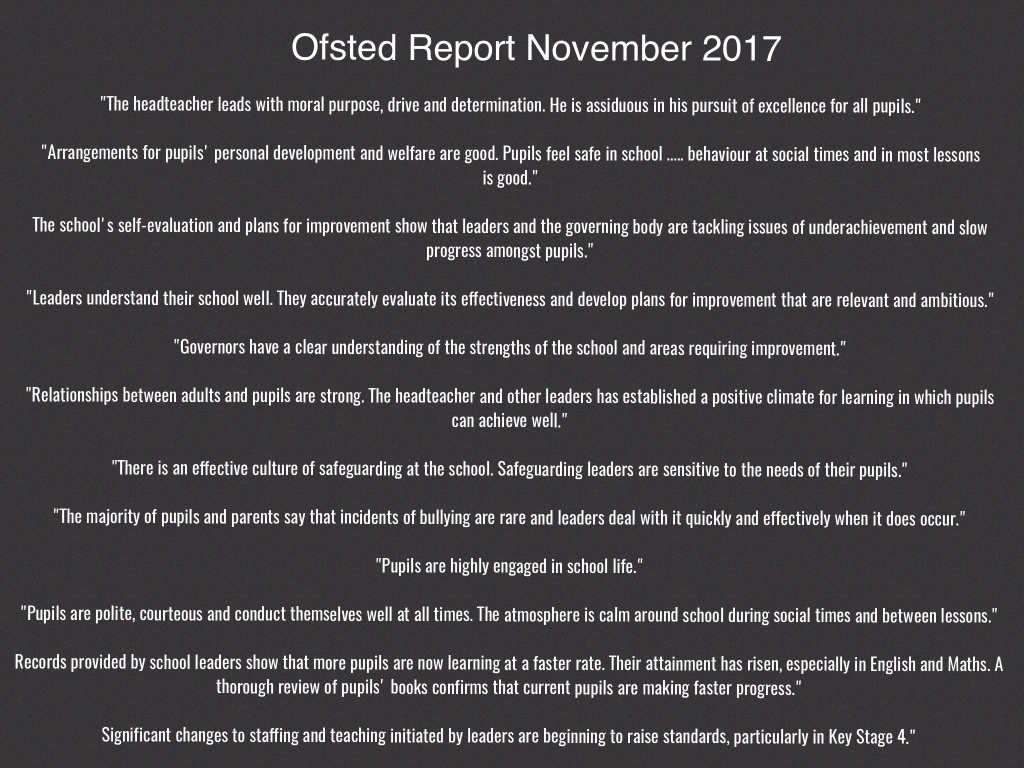 Our most recent inspection by Ofsted took place in November 2017 and the Inspection Report is available to view here.
Redmoor was judged in Nov. 2017 as requiring improvement (also known as RI) and, whilst this was most certainly not where we wanted to be, we fully agreed with the views of the inspection team  that this was the position the school was in at that point in time. Myself and the new leadership team had been in post for 12 weeks at the time of the inspection as we transitioned into an exciting new era for Redmoor and our students.
For myself as a new Principal, the new leadership team and also the board of Trustees, who again were reformed in 2017, the report confirmed and validated the work we were doing. Our aim was and remains to raise standards at Redmoor and therefore provide our students with wider choice and opportunity in their lives and this report told us that our direction of travel was the right one and we are having a positive impact on students and their learning;
"Records provided by school leaders show that more pupils are now learning at a faster rate. Their attainment has risen, especially in English and Maths. A thorough review of pupils' books confirms that current pupils are making faster progress." Ofsted 2017
We continue to strive towards our students not only achieving the best possible outcomes in their GCSE examinations but also to having fantastic opportunities at Redmoor that broaden their experiences and develop their confidence, leadership and resilience. We are passionate that our students will leave Redmoor as "good" people who will take their part in our community with a sense of pride in their achievement.
"Arrangements for pupils' personal development and welfare are good. Pupils feel safe in school….. and leaders have established a positive climate for learning. Pupils are polite, courteous and conduct themselves well at all times. The atmosphere is calm around school during social times and between lessons…and behaviour in most lessons is good." Ofsted 2017
There are many positives in the report which reflect the changes implemented and rapid impact of these in that first term and also the strengths of the school that have been grown over many years. The report also fulfills the improvement requirement of Ofsted and provided us with good advice on what we needed to do to improve, which we certainly have addressed in the time since that inspection;.
"Leaders understand their school well. They accurately evaluate its effectiveness and envelop plans for improvement that are relevant and ambitious. The headteacher leads with moral purpose, drive and determination. He is assiduous in his pursuit of excellence for all pupils." Ofsted 2017
Thank you to all students and parents who took the opportunity to share their views on the school, either through talking to the inspection team or through the parent view survey. We know the inspectors were impressed with your views on the school as they were with our students, who were their usual brilliant selves throughout.
"Significant changes to staffing and teaching initiated by leaders are beginning to raise standards, particularly in Key Stage 4." Ofsted 2017
Since Nov. 2017 we have made significant and sustained progress as a school and our students have achieved good GCSE results in the 3 subsequent years, with a positive Progress 8 score every time. 
We look forward to Ofsted returning in the near future to see the school we have become, the improvements we have made, the impact on our students and of course, to help us identify how we can keep getting better.
Thank you to parents for your continued support going forward as we work together to make Redmoor a successful, happy and inclusive school. 
Kind regards,
Matt Nicolle
Principal
---
GCSE Results
In the three years under new leadership, Redmoor students' outcomes have seen a significant improvement. Having been one of the most improved schools in the county in terms of GCSE results in the first year (with an Progress 8 increase of 0.8 in the single year between 2017 and 2018) students in 2019 and 2020 continued to secure grades which demonstrated progress over five years at Redmoor above the national average.
Our students leave us having secured qualifications that give them opportunities and possibilities for Post-16 study, training, apprenticeships and employment. We are particularly proud of the number of top grades achieved across the range of subjects on our KS4 curriculum, as well as our diminishing gap between the progress made by disadvantaged students and their peers. 
Both attainment and progress at Redmoor have risen steadily. Had exams taken place as usual in the summer of 2020 we are confident that Redmoor students would have achieved the school's best ever results. Our process for awarding Centre Assessed grades was robust and subject to strict quality assurance. 
| | | | |
| --- | --- | --- | --- |
| Performance Measure | Redmoor Result 2018 | Redmoor Result 2019 | Redmoor Result 2020 |
| Total Average Attainment 8* | 45.67 | 46.35 | 51.70 |
| Average Progress 8** | 0.01 | 0.03 | (0.34) |
| % Grades 9-7 including English & Maths | 7 | 7.6 | 12.6 |
| % Grades 9-5 including English & Maths | 40.1 | 37.2 | 47.4 |
| % Grades 9-4 including English & Maths | 64 | 67.4 | 71.1 |
*Attainment 8 is the sum of a student's best eight GCSE grades. 
**Progress 8 is a comparative measure:
If a student makes expected progress between KS2 SATs in Year 6 and GCSEs in Y11 they score 0.

A positive score above 0 shows progress above the national average and a negative score below 0 shows progress less than students nationally.

Redmoor's Progress 8 has been consistently positive for three years. In 2020 Progress 8 figures were not published nationally. This figure was calculated through a collaboration with 6,000 schools so is a useful indicator. Due to the coronavirus outbreak, the most recent national data generated by formal exams was recorded in 2019. Redmoor Academy's strong position in terms of GCSE outcomes can be seen here:

Find & Compare Schools 2019 (Gov.UK)
We continue to work hard to support all students to achieve their best, whatever their starting points.