At Redmoor, our curriculum is designed around the most powerful knowledge, that provides our students with everything they need to not only achieve excellent grades, but also become successful members of society. Our knowledge organisers at KS3 help summarise this knowledge in a format that helps students to remember it. Whilst these are also used at KS4, teachers will use other resources such as exam questions, online platforms and revision guides for homework.
Key Stage 3
Homework at Key Stage 3 consists mainly of learning facts from knowledge organisers, which should be completed in red books. Students have been taught a variety of ways to revise, which can be found in the 'How We Learn' section of our website. Evidence of this revision is what class teachers check to ensure completion and quality of homework. It is this careful revision that leads to excellent outcomes. Maths homework is set through Google Classroom and Science through ClassCharts. There may occasionally be other platforms used such as Kerboodle. These will be clearly explained by your child's teachers and recorded in planners.

Year 7 and 8

20 minutes, per subject, per week (with the exception of subjects that see students once a week)

Year 9

30-40 minutes per subject per week (with the exception of subjects that see students once a week)

Key Stage 4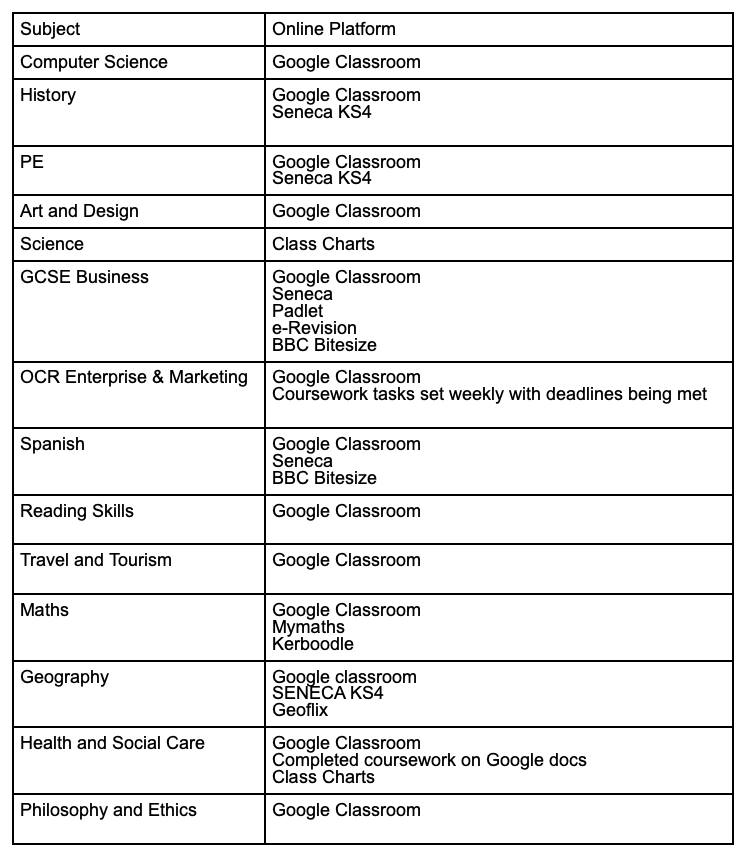 At Key stage 4  more online platforms are used to support students' revision. Students can access Seneca, BBC bitesize, Quizlet and other sites. Again, teachers will carefully guide students through the setting of homework towards the correct platform, which will be recorded in planners. 

Year 10 and 11
In year 10 up to an hour a week per subject

In year 11 up to two hours a week per subject (the peak of this being during exam time)

Online platforms
Different subjects will access different platforms depending on the requirements of the 
course. This is mainly at KS4, though occasionally will be used at KS3 also.